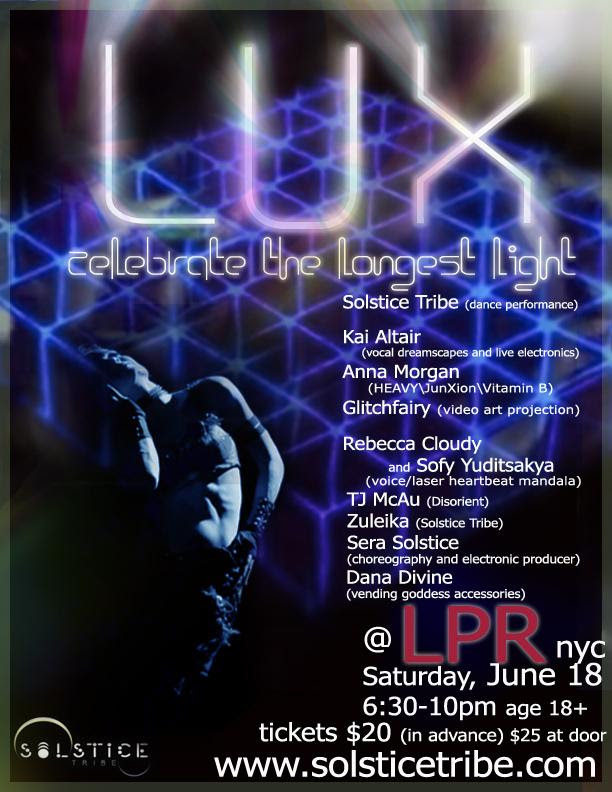 The Summer Solstice arrives…
LUX
celebrate the longest light
Kai will open the evening for Solstice Tribe with all new sounds and remixes from her upcoming album.  She and Sera Solstice will also premier their latest collaboration!
Solstice Tribe beckons you into the rich depths of Le Poisson Rouge, a venue known for regular showings of national acts, impeccable light and acoustics, and voted by New Yorkers countless times as  "best music venue", "best dance club", "best bar".
 Priestesses of the dance will greet you, along with the Goddess Maker, Dana Divine, adorning those who desire her one-of-a kind designs and accessories.  TJ McAu of Disorient sets the mood with his rich electronic sounds for your dancing or lounging.  Kai Altair opens the performances with vocal dreamscapes fused with live electronics, on a stage bathed in vibrating hues of video-projected originals by Glitchfairy.  Rebecca Nuvoletta of the party-producing art collective Disorient, will emcee the night, guiding us into deeper experience of the event, and with her magical vocals, will offer her soprano voice to the laser mandala activated by sound and heartbeat, by Sofy Yudiskaya and Rebecca Cloudy .
Solstice dancers will enliven and energize the atmosphere with powerful movement, a fusion of Bellydance, contemporary, and street dance with all new choreography, and debuting 5 new songs by Sera Solstice.  The night will escalate even further as the dance floor opens to you.  Anna Morgan takes us all on a journey of Bass…a wielder of dance floor energy, Anna Morgan is powerhouse of the beloved Heavy, 
The JunXion
 and 
Vitamin B
.