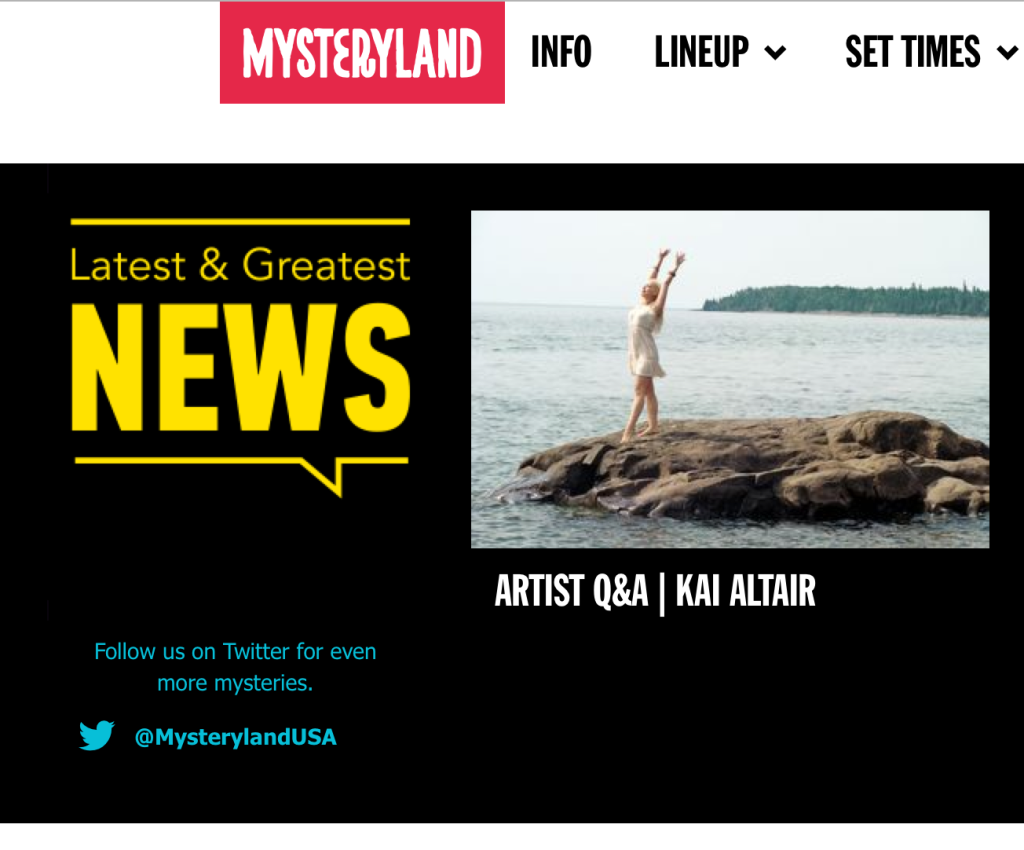 Mysterland USA features a Q&A with Kai on their homepage in the lead up to this year's music and arts gathering.  Mysteryland dates back to 1993 and is now the world's longest-running (electronic) music, culture and art festival. With a clear focus on culture, art, talent, creativity and sustainability, the festival takes visitors to inspiring and surprising worlds where literally anything is possible. The first international edition of Mysteryland was held in Chile in 2011.
In May 2014, Mysteryland made its USA debut at the site of the legendary 1969 Woodstock Festival and now returns for its third edition June 10-13, 2016.
Find Kai on the Healing Garden Stage at sunset on Saturday June 11th.  Follow the flames!  She will be joined by Flambeaux Fire for an hour set of new sights and sounds.
Read the Mysterland USA feature here: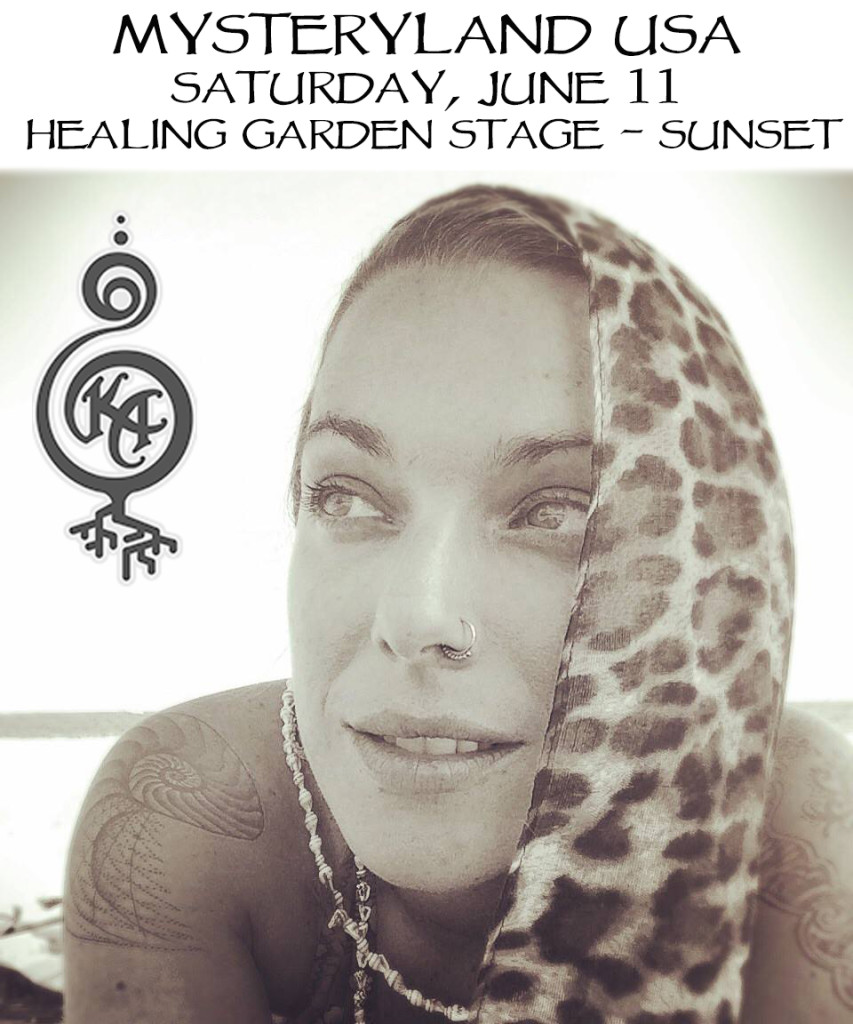 Kai Altair's voice blends electronic dreamscapes with bass exploration and global percussion. With music called "hypnotic" by SoundCloud and hailed by CBS News as a "modern day mermaid," Kai is influenced by transformational culture, myth and dreams when creating music and multimedia stage shows.
Based in Brooklyn, Kai performs with a rolodex of musicians and performance artists at venues, warehouse parties, and festivals across the US. Her passion for storytelling continues to lead her towards collaboration with up-and-comers from the dance, fire, circus, film and festival arenas known for summoning other realities with their creations. She stars in shows produced by The House of Yes and Flambeaux Fire. She is also the creator of Mermaid Lagoon: an ocean conservation variety show that sends thousands of dollars annually to local and world water organizations.
What are your favorite things about festivals and festival culture?
The interesting liminal space that is created by participating in a festival.  It is like a world between worlds, a place outside of time, and place where anything can happen.  The feeling of being outside of the normal flow of life, and allowing massive shifts in perspective and personal growth.  Setting an intention, and watching synchronicity multiply.   Meeting the most important people in your life because you are more open, and different you that your everyday.
What parties and festivals have had the biggest influence on you as a person, and also on your art?
House of Yes family fantasies, Gratitude NYC, Winkel/Balktick old-school warehouse throw downs, Burning Man, PEX.
Who were the first artists that you saw working outside museums– in the streets, at festivals, public places– that had a major impression on you?
Flambeaux Fire, Lady Circus, That Dude in all the Garbage Bags, That Dude with the Cat on His Head, One Night of Fire flashmobs.
How does community influence your creative process and day to day lifestyle?
It is EVERYTHING!!!  My community builds me up, inspires me, fills me with power and makes me a super hero.  I feel so blessed to be surrounded by my biggest inspirations as I work to create a dream that is at once my own, but also a part of a greater whole.  We are a TRIBE, and I would never, ever be the artist I am today if not for the amazing creatures I am constantly surrounded by.  Each evolution of my art and personal power seem to ripple through the organism of my community as it reaches out to me.  They allow and excite me to be constantly changing and metamorphosizing.  They carry me along like a current, all I need do is swim with them and shine my light.
What advice would you offer to aspiring festival artists?
Find your tribe.  Love them.  Allow them to love and inspire you.  As you are inspired and filled with their love you will begin to love and accept yourself more.  As you love and accept yourself, you will begin to see and feel the true art that is shining from your soul.  LET IT OUT.  Don't be afraid to make it weird.  Your tribe will love it because it all came from your real self, your real insides.  Let it ripple out on the river of your community until it reaches larger oceans, but don't worry about how big it gets.  Just share it, and share it, because it makes your soul sing.  Share it because it makes you more alive.  Rinse, wash, repeat. 🙂
Where can we find you partying at Mysteryland?
Healing Garden!  YUMMMY!