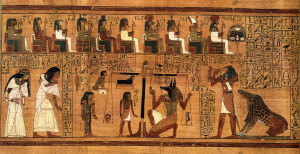 The Egyptian 'Book of The Dead' is transliterated rw nw prt m hrw, and is translated as "Book of Coming Forth by Day" or "Book of Emerging Forth Into the Light".   The text consists of a number of magic spells intended to assist a person's journey through the Duat, or underworld after death, or during an intense initiation ceremony created to renew the spirit and create a 'rebirth'.  Before emerging into the light the initiate must pass a grand trial in which their heart is weighed against a feather.  Is there sadness, guilt, resentment, things left undone, or unsaid? Is the heart feather light or heavy with burdens of the past?  Without a free heart transformation is impossible.
In far ancient times this rite was reserved only for royalty and temple clergy of the highest order.  Times have changed.  Through the magick of the internet we can learn these 'secrets' with just the click of a mouse.  Ancient stories reveal themselves to all who seek, and the old ways unwind and are reborn into the vibrant energies of the present.  The symbols speak.  The Old Gods operate in a place of no-time, and may still open doors if we knock in the right way.
Today there are 2 songs winding through my life regarding this tale of wisdom and transmutation.  One is written by me, and one by my good friend (and musical companion of many lifetimes) Joe Pepitone of Kollagemontage.  Perhaps they will inspire you to explore Egyptian cosmology and the 'Book of Dead' for yourself, or perhaps they will speak to you of your own passages through the pathways of life and spirit.  Here are the lyrics to both offered in love and light.  They will be released later this year.  Stay tuned. . .
Out By Day: by Kai Altair
Oh you don't wanna go, then you do, then you don't
but you know you're only halfway home
and you don't want to loose your way or be alone

But there's a revolution, revolution, revolution in the air

It's not like they said
It's not in your head

It's a something that can't be said

And it's written on the hearts of the dead
If you go, go, go

out

by

day

-o

When you know, you know you know the way-o
Then go by

day

, go

out

by

day
And it pulls and it tightens,

It whispers of right and then wrong

Oh it calls and it frightens,

It's been there inside for so long

There's a revolution, there's revolution in the air…

*****
Coming Forth by Day: by Joe Pepitone
In this moment – I have awoken
My perfect name – is spoken
Ancient echoes – casting shadows
Pierce my heart – with poison arrows
I'm on this path – the way is narrow
I am of the pharaohs – born of the wind
Free without sin – let it begin again
True of voice – will not stray
I'm coming forth by day Stones of time – supreme alignment
Amplifying – broken waves
Half blinded – keen to confinement
Open minded – the way of the sage
Turn the page – carve the glyph
This empty age – void of myth
Light the lamp – open the way
I'm coming forth by day