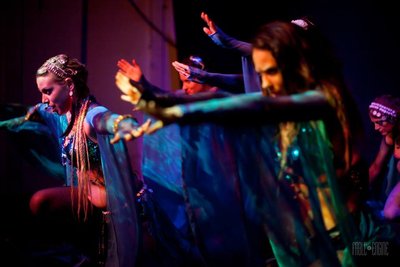 Many thanks to Jess Berry and Brooklyn Downtown Star for the great feature that hit newsstands all over Brooklyn this week.  Word is spreading about the ocean benefit that plans to send money to the local Hudson Riverkeepers, and WDC: Whale and Dolphin Conservation.
After Brooklyn-based electronic rock artist Kai Altair saw the movie The Cove — a documentary that looks at dolphin-hunting practices in Japan — she felt she had to do something to help.
'"I had so much sadness for the dolphins being slaughtered in Japan and being captured and bought in cash," Altair said. "I felt so much despair, I had to do something with it, and as an artist I knew I could.'
All of that despair turned into something amazing, when Altair hosted her first Mermaid Lagoon benefit to give back to the ocean that she said has always inspired her…The event has been running for five years now, raising funds to help save the ocean and its sea life by bringing Altair's own version of the sea right to Brooklyn."  Read more: Brooklyn Downtown Star – Brooklyn musician hosts burlesque ocean charity event

On February 5th, the Mermaid Lagoon will return to New York City for just one night. It is the 5th annual ocean benefit held by the Mermaids of NYC.   Come dressed for a cold night on high seas of ice and snow and an evening of performance, dance, games, revelry, and song as we dig deep to give back to our oceans. Remember your connection to the sea, and celebrate its enchantment, mystery, and beauty in a glowing winter lagoon full of dancing ice mermaids, projected ocean dreamscapes, pirate games, prizes, and bio-luminescent sea life.
This is an intimate evening of art and dreams. Only 150 tickets are available.

Visit the Facebook Event Page: https://www.facebook.com/events/1488942241383904/
Tickets: http://www.brownpapertickets.com/event/1152488
February 5th, 2015
9PM-2AM
Lot 45
MUSIC + COCKTAILS + FOOD
411 Troutman street
(Jefferson L Train)
@lot45bushwick @djennabrooklyn
#Lot45
Www.lot45bushwick.com